More to come ~ please check back !

October 1st, 2012 7 PM
Book Review of "The General's Son"
download 11 x 17 poster here
Past Events

June 8th, 2012
download 11 x 17 poster here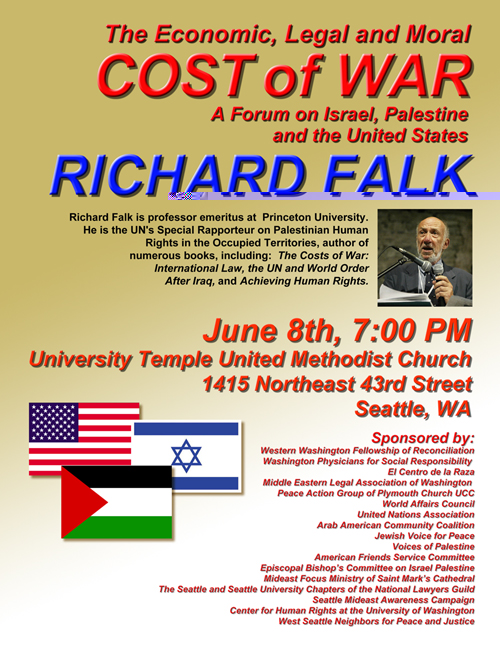 ---
May 13th, 2012, Sunday Noon to 5 p.m.
Nakba Day Commemoration
Westlake Mall
Seattle, WA


Wednesday, March 28, 2012 7:00pm - 8:30 p.m.
Part III Arab Spring Series: Dissecting the Uprisings with Local Experts
The Economic, Legal and Moral Costs of War
Seattle Central Community College, Room BE1110
1701 Broadway
Seattle, WA


If you were to name the biggest foreign policy stories of 2011, the Arab Spring would top the list. The dominant story of the year began in Tunisia in December 2010 and resulted in government overthrow in Tunisia, Egypt, and Libya. On March 28, Seattle-area experts will answer these questions in small groups focused on Libya, Egypt, Tunisia, and Yemen.


The experts are:
Dr. Robert Burrowes: an expert on Yemen and Middle Eastern Affairs. He is the author of The Yemen Arab Republic: The Politics of Development, 1962-1986; Historical Dictionary of Yemen, 2nd ed.; and the entry on "Yemen" in the 2000 edition of Encyclopedia Britannica.
Kay Tarapolsi: a Libyan American who creates art and crafts to promote a positive image of Arab culture. She currently sells these items under her company, A Crafty Arab. Kay was Board Director of the Arab Center of Washington from 2005 to 2007 and was a producer of the 2007 Arab Festival. She lives in Redmond with her husband and three young daughters.
Dr. Jawed Zouari: teaches political science at Seattle Central Community College and his publications include, "French Speaking North Africa, The Cultural Component of Foreign-Language Learning," National Textbooks, 1995; "Social Change, Stress, and Mental Health among Tunisian Women," The International Journal of Psychology, 1995.
Tickets: $10 Members / Students; $15 Non-members
Wednesday Feb. 29th 7 PM to 8:30 PM
World Affairs Council: Libya Rebels and Healers
Swedish Cultural Center, Three Crowns Room
1920 Dexter Ave N
North Seattle, WA 98109
download 8 1/2 x 14 flier here
Tickets: $10 Members / Students; $15 Non-members


January 5th and 6th, 2012
download 8 1/2 x 14 legal-size poster here


---
September 19th, 2011
download 8 1/2 x 14 flier here
download 11 x 17 poster here
Tickets: $15 www.BrownPaperTickets.com


May 6 - 7, 2011
May 15, 2011

A vigil and protest at Westlake Plaza will be held on Sunday May 15, from 12:00 to 5:00 pm. A theatrical display of over 100 small tents inscribed with the names of destroyed Palestinian villages will commemorate and protest the events of 1948, when two-thirds of the indigenous Palestinian people were forcibly displaced and over 400 Palestinian villages were destroyed. The new state of Israel created laws to prevent the return of those Palestinians after the war, and now Palestinians are one of the largest and longest-suffering refugee populations in the world. To describe these events, Palestinians use the word "Nakba" which means "catastrophe." Today, Palestinians continue to be driven off their land to make room for illegal Israeli settlements. The May 15 Nakba event is co-organized by Palestine Solidarity Committee, Voices of Palestine, and Seattle Mideast Awareness Campaign.


May 26


Arab and Arab American Feminisms: Gender, Violence, and Belonging ~ A Reading
7-9pm
Elliott Bay Book Company
1521 10th Ave
Seattle WA 98122

A Reading With Contributors to the Book:

Nada Elia, Professor of Gender and Global Studies at Antioch University-Seattle, and Long-Time Activist for Palestinian Rights

Therese Saliba, Faculty of International Feminism and Middle East Studies at the Evergreen State College and Associate Editor of the Brill Encyclopedia of Women and Islamic Cultures

ABOUT THE BOOK:
Arab and Arab American Feminisms: Gender, Violence, and Belonging
Edited by:
Rabab Abdulhadi
Evelyn Alsultany
Nadine Naber

Syracuse University Press

http://www.syracuseuniversitypress.syr.edu/fall-2010/arab-arab.html

Description of the Book:
In this collection, Arab and Arab American feminists enlist their intimate experiences to challenge simplistic and long-held assumptions about gender, sexuality, and commitments to feminism and justice-centered struggles. Contributors hail from multiple geographical sites, spiritualities, occupations, sexualities, class backgrounds, and generations. Poets, creative writers, artists, scholars, and activists employ a mix of genres to express feminist issues and highlight how Arab and Arab American feminist perspectives simultaneously inhabit multiple, overlapping, and intersecting spaces: within families and communities; in anticolonial and antiracist struggles; in debates over spirituality and the divine; within radical, feminist, and queer spaces; in academia and on the street; and between each other.



December 27: Remember Gaza

Please come join us in a walking vigil to remember the ongoing siege and attacks on Gaza.

Dec 27 will be two years from the day when Israel launched its three week attack on the captive population Gaza, killing 1400 people including 400 children. Israel continues frequent attacks and has maintained its illegal siege and blockade, restricting food, medical supplies and other necessities, as well as preventing reconstruction. After two years, the situation in Gaza is still desperate. And Israel continues driving out Palestinians in the West Bank to make room for Jewish-only settlements.

On Monday Dec 27, Palestine Solidarity Committee will hold a silent walking vigil in downtown Seattle. We'll meet at 5:00 pm at the south end of Westlake Plaza, near the trees and benches. We will dress in black and some people will wear kufiyehs and the tears-of-blood masks we have used many times before. We will walk in procession on sidewalks around the downtown area, with colleagues to hand out leaflets about the situation in Gaza. It will be a simple small mobile action and will be finished before 7:00. (Stores stay open later in this shopping season, and we'll be stopping at some boycott target locations.) We will do it rain or snow or clear sky.

If you would like to join us, come to the south end of Westlake Plaza by 5:00. Please wear black or dark colors (and dress warmly). If you have your own kufiyeh, bring it. We will have some signs to carry.

BRING CANDLES or lanterns if you can. It will be dark by that time of day, and though there will be streetlights, candles will still show up.

Monday December 27, 2010
5:00 pm
Westlake Plaza, 4th & Pine -- south end near benches and trees.



April 14, 15, & 16

CRY FURY
freely adapted by Edward Mast
from Aeschylus' ORESTEIA

You are invited to watch and listen to an old story newly told. Adapted from Aeschylus' dramatic trilogy of Orestes and the House of Atreus, CRY FURY reenacts the cycle of murder, vengeance and punishment that falls on the victorious Greeks when they return from destroying the city of Troy. This new adaptation is informed by our contemporary world of foreign wars, falling dictatorships, revolution and the political control of memory.


When a crime of murder is avenged, who will punish the avenger? When walls are toppled and masters are deposed, will there be freedom or only a new set of masters?


CRY FURY will be a spoken oratorio in an intimate setting, directed by Robert Leigh and featuring Carmel Baird, Vince Balestri, Erwin Galand, Teresa Kennedy and Meg Savlov. The performance will last about two hours with one intermission. Admission is free but seating is extremely limited, so please reserve seats.

THREE NIGHTS ONLY:
Thursday - Saturday April 14, 15, 16 8:00 PM
The performance will last slightly over two hours.


7141 California Ave SW in West Seattle
First floor of Westside Unitarian Universalist Congregation
Parking lot and street parking available - enter through door near parking lot. We may not be able to accommodate latecomers, so please allow plenty of time.


FREE admission but SEATING IS LIMITED
CALL OR EMAIL FOR RESERVATIONS:
(206) 774-6438
cryfury2011@gmail.com
Please leave your name, the date you want to attend, the number in your party and your contact phone and email. You may consider your reservation confirmed unless we get back in touch. We will not call or email unless there is a problem with your reservation. We cannot guarantee reservations made after 4 pm on performance days.



Seattle Mideast Awareness campaign is a non-profit, currently in application process for 501(C)(3) status. Your donation will be tax deductible retroactively on approval of 501(c)(3) status..